Fat Buddies Ribs and BBQ
SO GOOD IT'LL MAKE YOU SQUEEL!
Dine in, take out, or have a Fat Buddies' "Backyard" BBQ! We provide carry-outs and we ship too!
Catering
Fat Buddies professional staff will come to your location and serve you our famous ribs and BBQ complete with all the fixin's. Give us a call for details, or check out our Catering Services!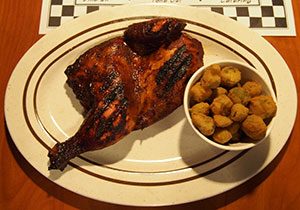 The Legend of Fat Buddies' Secret BBQ
The story goes (and we're stickin' to it) that ol' Great, Great Grandpappy Buddy started smokin' game to get through the lean times. Well ol' Great, Great, Grandpappy got to experimenting… read more…
Your Satisfaction is Guaranteed!
Our aim is to offer an excellent food served with Southern Hospitality in a clean, cozy atmosphere. If you feel we haven't done this, let us know. We'll make it right. We value your patronage. Thank you, and enjoy your meal.